Amazing Bone Broth, definitely one of my top picks for gut health. WOW, it has so many amazing benefits.  I first learned about meat stock and bone broth and its benefits through Dr. Natasha Campbell-McBride's book, Gut and Psychology Syndrome.  In her amazing book, she talks about sealing and healing the gut through diet:
"Meat and fish stocks provide building blocks for the rapidly growing cells of the gut lining and they have a soothing effect on any areas of inflammation in the gut.  That is why they aid digestion and have been known for centuries as healing folk remedies for the digestive tract (pg. 145)."
Sally Fallon Morell, founding president of the Weston A. Price Foundation and author of a really wonderful cookbook, Nourishing Traditions states:
"Stock contains minerals in a form the body can absorb easily—not just calcium but also magnesium, phosphorus, silicon, sulphur and trace minerals. It contains the broken down material from cartilage and tendons–stuff like chondroitin sulphates and glucosamine, now sold as expensive supplements for arthritis and joint pain." - See more at: The Weston A. Price Foundation, Broth is Beautiful
There are noted differences between meat stock and bone broth. For one, meat stock is not cooked as long as bone broth (3-4 hours verses 12-48 hours).  Also, meat stock is used in the beginning stages of the GAPS diet where the focus is on healing the gut and may initially be more well tolerated as this article discusses, "Stock vs. Broth: Are You Confused? by Kim Schuette, CN, Certified GAPS Practitioner.
Ingredients:
4 pounds of beef marrow and or knuckle bones
1 rib eye steak (optional for flavored broth)
4 quarts of water
1-2 onions
3 carrots
3 celery stalks
1/2 cup Apple Cider Vinegar
1/2 cup parsley
2 tsp Real Sea Salt
Place marrow bones in a large pot and fill with 4 quarts of water. Add 1/2 cup of vinegar.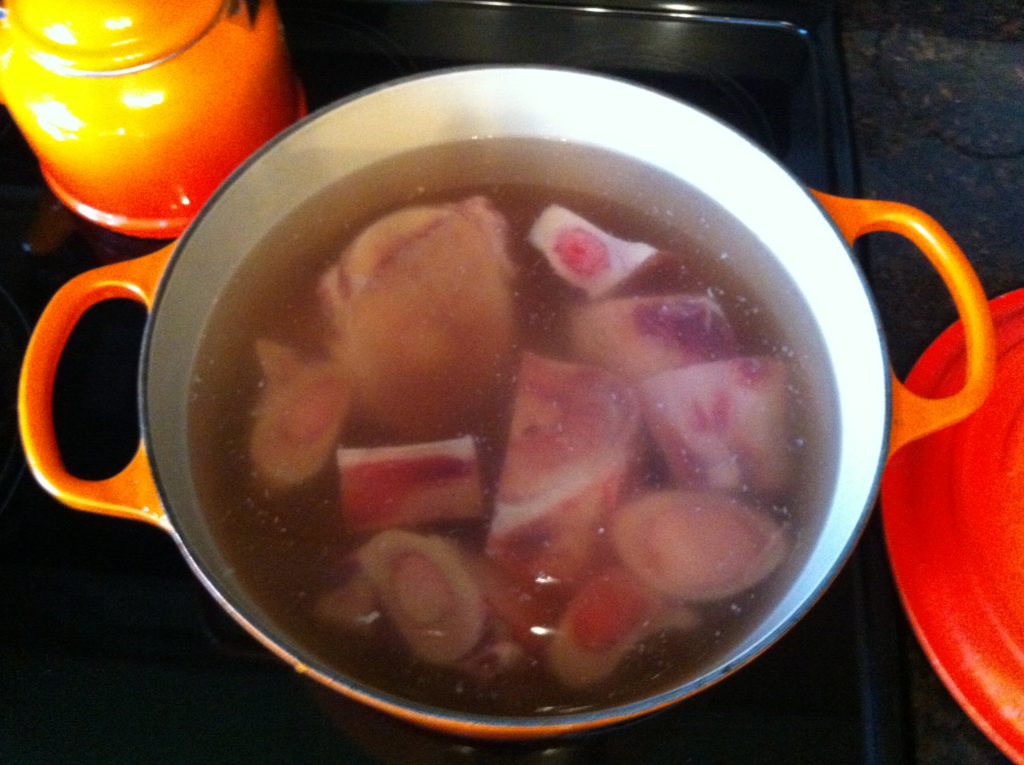 Let sit 45-60 minutes to allow time for the vinegar to draw the minerals out of the bones. Bring to a boil and quickly reduce heat to a very low simmer. Skim off the foam that forms. This may occur before it boils so pay close attention. Add veggies. Salt and sear rib eye steak in skillet, 1 - 2 minutes each side only. Add to soup.  This will flavor the soup and tastes great to drink as a broth alone. Cook 3-4 hours for meat stock and 12-48 hours for bone broth.  Add parsley and salt in the last 10 minutes of cooking. Cool to room temperature. When your done there's lots of gobbly goops floating around.  That's the marrow that came out of the bones... that's good! Strain with a fine mesh strainer (taking out all the veggies, meat marrow and bones).  I like to store broth in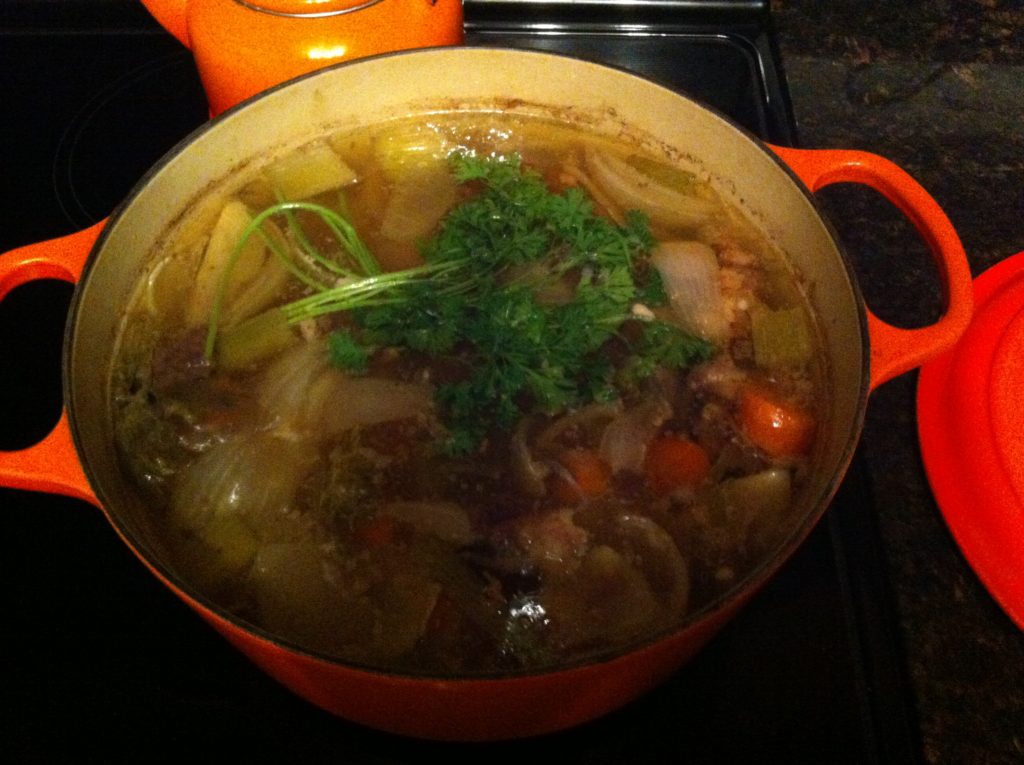 Ball Freezer Safe Jars.  I generally keep what I will be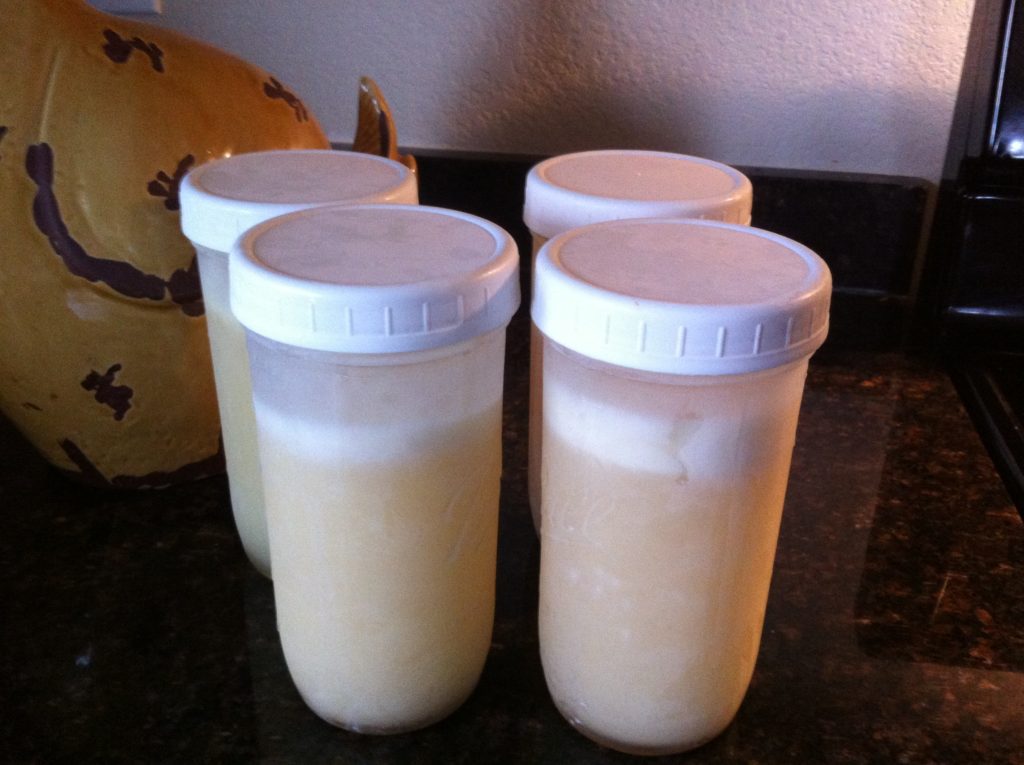 using for the next few days in the refrigerator and freeze the rest and use within a month or two.  Meat Stock or Broth - What works best for my family is somewhere in between...about 6-12 hours, I generally cook it all day on the stove and cube the rib eye steak and veggies for beef soup that night!
Best of Health,
Sandra
DISCLAIMER: The content on the blog for Evoke Physical Therapy and Wellness Center, LLC is for educational and informational purposes only, and is not intended as medical advice. The information contained on this blog should not be used to diagnose, treat or prevent any disease or health illness. Any reliance you place on such information is therefore strictly at your own risk. Please consult with your physician or other qualified health care professional before acting on any information presented here.
Read more